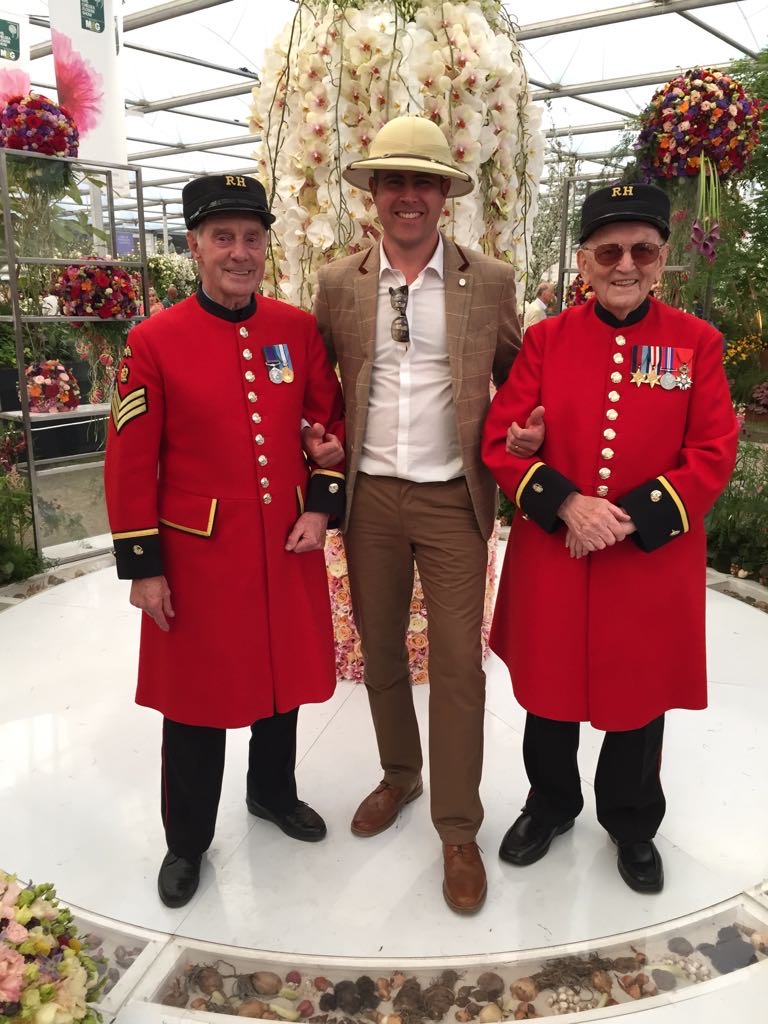 That RHS #Chelsea Chap
It goes without saying, I fit #RHSChelsea better than a new pair of GoldLeafGloves! If you are a keen gardener you will get the reference but seriously without #Chelsea in my life it would be rather boring I can tell you. It's fixed in my horticultural diary as it is essential to my gardening year, my flower boost if you will.
Grab a pensioner!
I've been going to Chelsea for about 14 years now, I truly love #London & revel in my trip every year. I never knew that my first visit would inspire me so much that it would lead me into the world of horticulture. I loved my childhood gardening with my grandfather, those #ChelseaPensioners remind me of him. When I get a chance I grab a picture and have a chat, I highly recommend you do so on your next visit.
It is hard to explain ChelseaLife but I will try my best to do so, firstly I openly ask you to become an RHS Member. Last year they surpassed 500,000 members which is simply amazing. For such a small yearly fee the benefits are outstanding, one of which is members-only days at RHS Shows & early ticket purchase. Press day Monday opens the event & the Royal family visit so it is closed on this day. #ChelseaTuesday as I call it is the first official open day to the public, it is members day and when medals are awarded. Though busy, it's outstanding as things are new & fresh. The quicker you can attend the show the better as the show quality is at its best. Also, Designers & garden celebrities are out and about so keep a lookout.
Have a SHOW & PIMS plan! 
It's not essential of course, a general direction to start is good to have as it can be busy by the main garden entrance. As a quick #Tip, the bulk of the crowd roar off to the main avenue to see the show gardens. You have plenty of time to see them through the day, I relax & head off to the Artisan Gardens first.  Left, right, left & round is my motto, immediately after you leave the crowds you relax, I'm there the full 12 hours so having a no rush agenda is best. I love to soak up the British atmosphere and meet people, I make it a point to Network. I meet up with #gardening friends, talk to my suppliers & hopefully make a few more. Try some culinary delights & sample some summer alcoholic English traditions #PIMS. The sun never seems to disappoint, nothing better than feeling dapper with a glass of bubbles, tell me what's better?.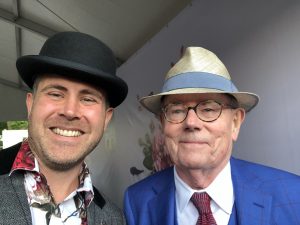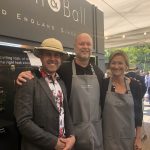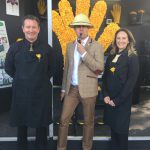 The variety at the show is never dull & well-orchestrated, gems seem to be scattered & waiting to be discovered all over the show. I admit, I am so entranced that I hardly eat at all, all day. I favor getting lost in the show then wasting time queuing for food, my choice of course but it is my one & only day to indulge in everything #Horti. To go back a step if I may, If you have a general question about THE RHS or the show please ask the information desk. It is located on your immediate left after entering by the main gate by lost property, I find them extremely knowledgable & willing to help. #TIP You can charge your mobile phone here but bring your own charger, they are fine to watch over it but not obligated to do so so it's your responsibly if it goes missing but this was fabulous of them I thought.
160,000 people visit The Chelsea Flower Show every year!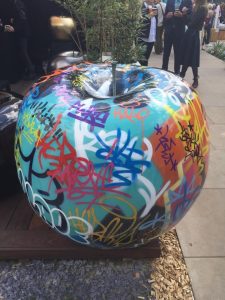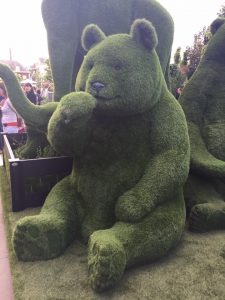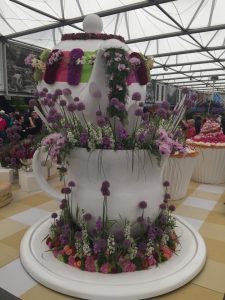 Get lost & discover!!
I truly love the randomness of every show, you think you have seen it all then Wham! a green bear or shiny graffitied apple. It borders eccentric but rather intoxicating after a brief spell, it just works. A celebration of pushing the horticultural boundaries, the industry pulls in, in my opinion, the best of all trades & crafts. Outstanding purchases to also be made, order a bespoke forged gate or hand-carved nameplate made from green oak is just a few off the top of my head. This is why I need a full 12 hours there, though a small show, Chelsea has an extraordinary layout with hidden areas. There are also many more small & large businesses then you think surrounding the Great Pavilion, you can get caught up in walking the main avenues and miss the second row of shops by Chilstone & Pavilion way.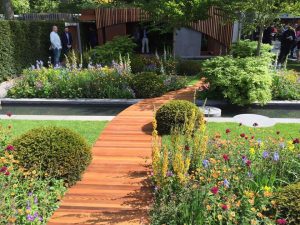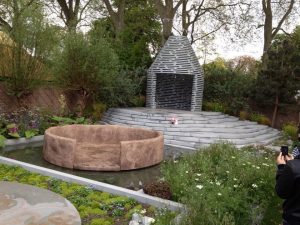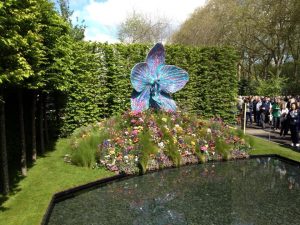 The Gardens
The Highlight of one's day, extraordinary feats of engineering, we revel in the beauty of the planting and message in portrays. The atmosphere is electric at the gardens, it is truly a spectacle to behold & urge you to visit one day.
On a given day the crowds can be 39,000 people, it amazes me still the number of people trying to get a glimpse of the gardens. Usually, 3 people deep at the main show gardens, being tall or having long arms to take a picture from above is my only solution to this flowery mayhem. Gone are the days of strolling such events, it feels a bit overwhelming and frustrating especially if your trip has built up to this moment to grab a glimpse at something of interest to you. Patience & kindness will win in the end but can you wait? My observations thus are, people are more interested in seeing the grouping of flowers up close. Of course the gardens, as one entity, are the main event but people talk most about the chosen flowers when they finally get to the front. I've thought about this for a while now, do we go to dream or to escape. Can we possibly manage such a garden ourselves, the choice of materials used are luxuriously priced so what are we looking for? We go to not just inspire our physical surroundings but our minds, are we becoming more aware as a society of our #MentalHealth & Wellbeing?.
"Gardening will become more important to us, growing our own medicine is the way forward"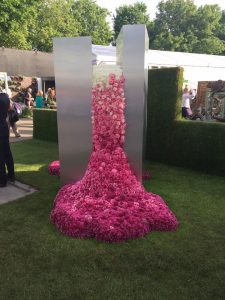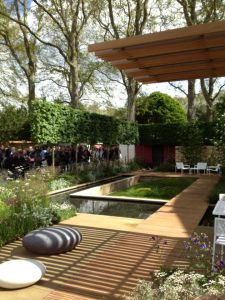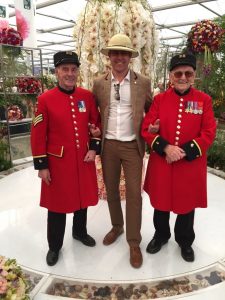 Friendly faces
It wouldn't be #Chelsea without meeting the Designers, a great way to follow more closely their work is to follow them on #Twitter. The RHS will be outstanding at keeping us up to date on the gardens as they develop.  A one to one with the designers themselves though, will give a greater look at the work that goes into the project as it happens, to give you a better overview. I make a point of meeting a few, it is wonderful to grab a moment with them & try and extract their energy & drive. I am very fortunate to have made a few great friends, they have been marvelous support & always on hand to give you a morale boost even if they are abroad in Russia! Long story but I've been lucky to have connected with a few truly remarkable human beings, good to be bold sometimes. Social media thus far has been a unique tool & very kind, I believe, if used wisely, it can & will improve our #gardening. Thanks #AdamWhite & #JoThompson
The Hall of Fame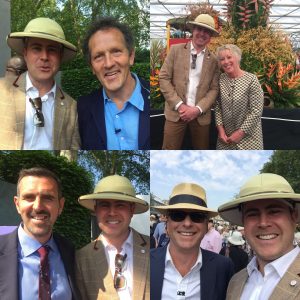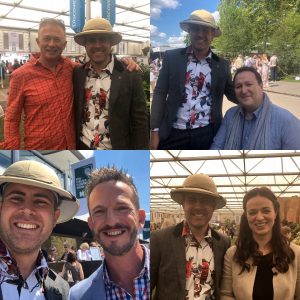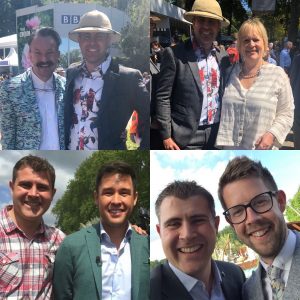 Thanks to #MontyDon #CarolKlein #TobyBuckland #MarkLane #SimonLycett #SueBiggs #AdamFrost #JoSwift #NickBailey #FrancesTophill #JamesWong #MatthewPottage
We say Goodbye but never forgotten! We hope to still see you at the shows Zoe.
A #Horti haze of wonders
The shows boast the best in horti purchases, its a lavish gardening shopping paradise with beautiful products to tempt your pockets. A sea of friendly faces as you walk down Eastern Avenue, you must take home at least one memory of Chelsea so take a really long look.
I love meeting up with friends & making new ones, keep those eyes peeled as it can be a bit crowded. I'm like a homing beacon of unique characters & Chelsea never disappoints. I do love meeting people and looking for new products to bring back to Norway, it is such a wonderful day networking & making others smile at my fabulous attire. Chelsea is all about the show & I bring it every year, one loves a #London gent. I try to relax but with so many amazing products to try & see I am rather exhausted but I find ways!
Thanks to M&G Garden for sponsoring the event & getting in touch, look forward to seeing you next year!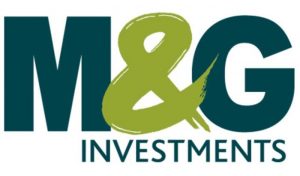 #hagebrukspesialisten #theenglishgardener #goprogardener